Rebel without a cause
Sargento Pascuas is the longest-serving active member of the FARC guerrillas, responsible for the death of dozens of soldiers and civilians. He is 76 years old and has been fighting for over 50 years. Now, as the FARC are giving up the armed struggle, he wonders what do to with his last years of life. He hasn't learnt anything else than fighting.
In 1960, Pascuas joined a troupe of insurgent peasants and cadres of the Communist Party. They fought for a land reform and for more equality in one of the most unequal countries in the world. Four years later, in 1964, they renamed themselves Revolutionary Armed Forces of Colombia. The FARC were born. They were 48 men and four women at the beginning. Of the founder generation only two members have survived. One is in medical treatment in Cuba. The other one is Pascuas.
Pascuas has seen thirteen Colombian presidents come and go. All of them sent soldiers and fighter planes against him. "I survived the twenty air raids," he says. He spreads his arms wide open to show how the deadly bombs got bigger over the decades. Half a meter. One meter. The last bomb the government threw on him was bigger than he can spread his arms.
Wanted
Pascuas is wanted by the US-authorities for the production, trafficking and distribution of a hundreds of tons of cocaine in the USA. There are two photographs in his profile on the page of the U.S. Department of State. They seem to belong to two different men. In real life, Pascuas doesn´t look like neither of the two.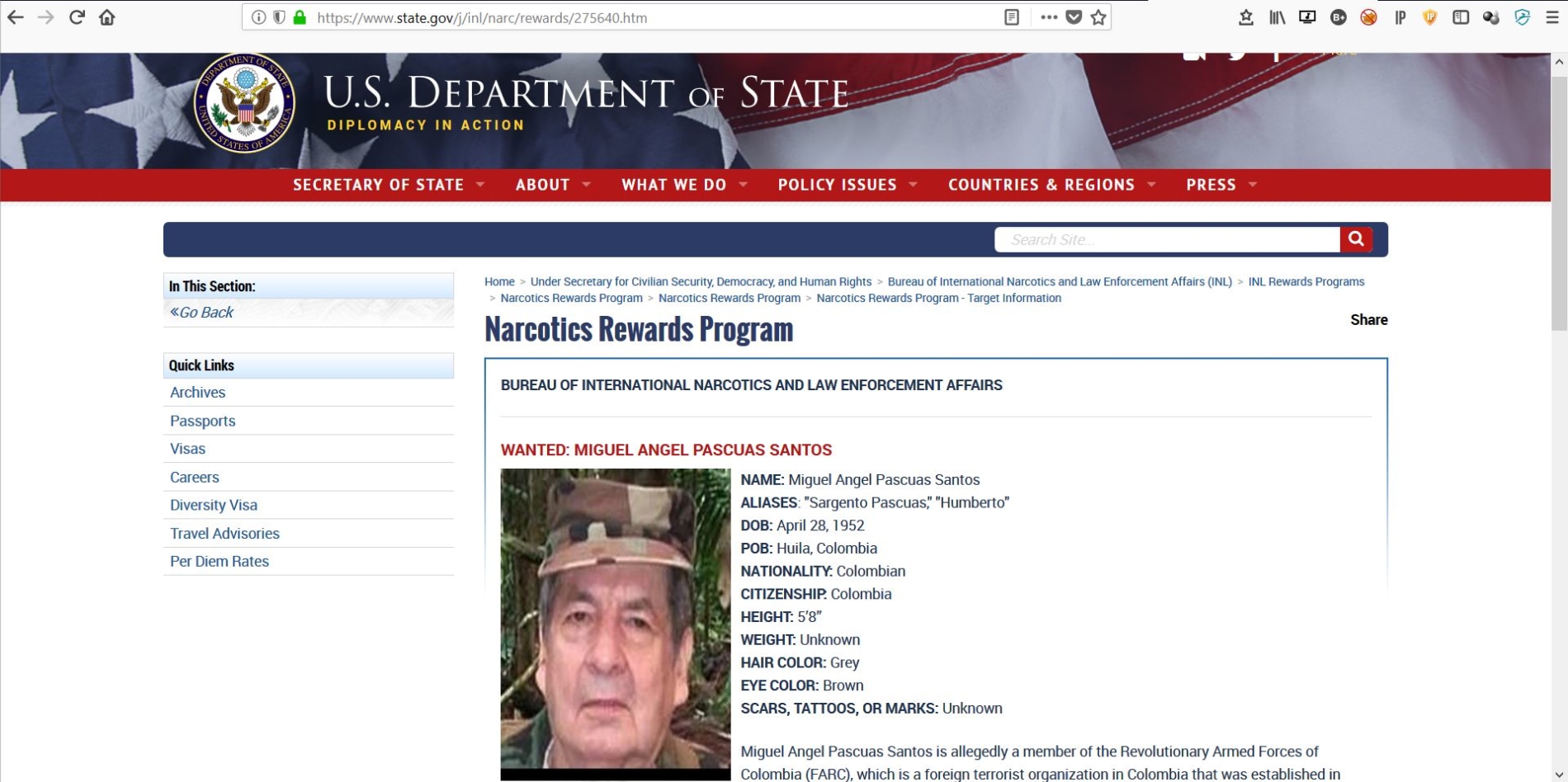 Forced retirement
The armed rebellion of the FARC has come to an end. An estimated 6,000 rebels will give up their weapons in the coming months, and the guerrilla will to transform into a political party. President Juan Manuel Santos and the Commander-in-Chief of the FARC, Timochenko, signed an historic peace treaty at the end of November.
Pascuas has three children. He had to leave them with their mother, "because of the war." Pascuas does not like talking about his family. The Farc is his family. The veteran would not reject a post in the new political party. "I have the strength", he assures.
He still has a seat in the General Staff, the second highest executive body of the FARC. But a younger, eloquent and media-savvy generation has replaced dinosaurs like him. Victoria Sandino belongs to this generation. During the peace talks in Havana, the 50-year-old woman led the gender commission. Pascuas is a "hero", a role model for his comrades, she says. But after years of armed struggle he has earned himself "peace and active recreation", for example on a ranch up in the mountains. It does not look good for Pascuas. The eternal rebel is facing forced retirement.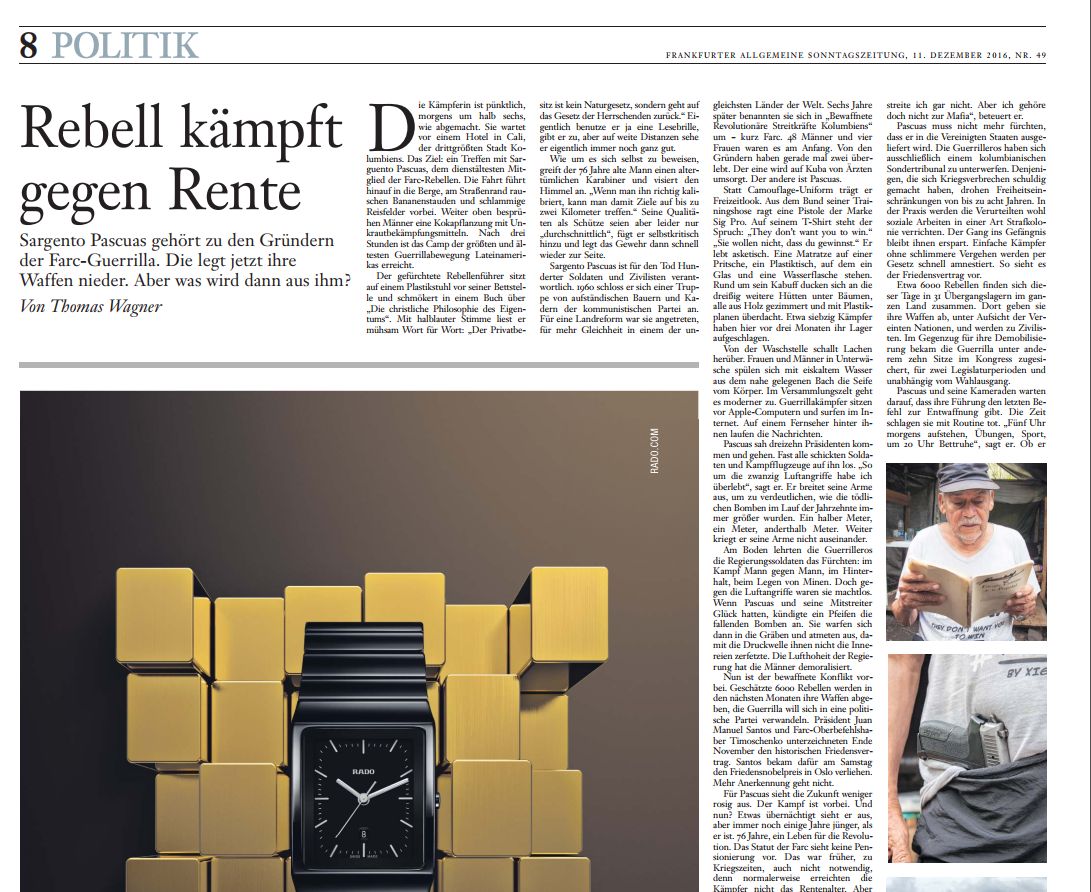 When: 25th to 26th of october 2016
Where: Municipality of Buenos Aires, Colombia
Published by: German weekender Frankfurter Allgemeine Sonntagszeitung
---